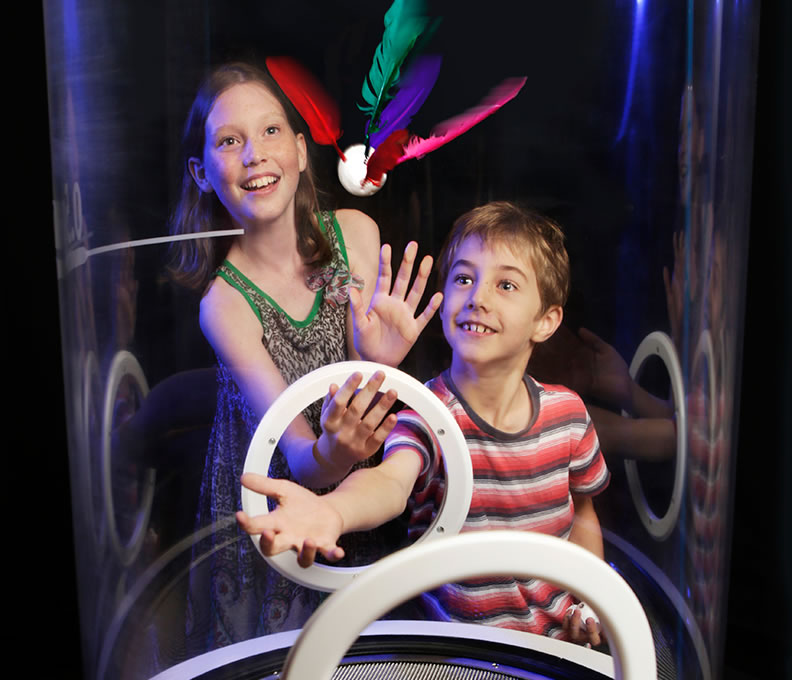 Design and build your very own flying creation to test in the Wind Tubes. See your creation take flight and soar to the ceiling, and defy gravity by hovering high overhead.. or just fall to the floor.
It's all about air and invention, with a little bit of mid-air mayhem.
Wind Tubes is a hands-on exhibition that challenges you to make a flying creation out of everyday materials and launch it into large, clear vertical tubes of moving air. It's a playful way to explore the effect that moving air has on objects. The challenge is to harness the power of the moving air and discover the design that will keep your creation air-born for the longest time. There's ample opportunity to experiment and modify your design, and possibly set the record for the longest flight time.
Plastic, paper cups, polystyrene, ping pong balls, propellers and more .. all the materials you need are provided. But can your design overcome turbulence, drag, air resistance and gravity?
Wind Tubes is a fun, interactive exhibition for the whole family. There's a special space for children under 2 to enjoy.
❊ When ❊
From
: Friday 4th of May 2018 To Sunday 9th of September 2018
Time:
10AM - 5PM
❊ Venue | Location ❊
Ipswich Art Gallery
[
view
]
d'Arcy Doyle Place Ipswich Queensland 4305 ||
Map
Telephone: 07 3810 7222
➼ Venue: 2 Calendar events |
View Events
❊ Web Links ❊
➼
Wind Tubes
➼
www.ipswichartgallery.qld.gov.au
❊ Be Social ❊
Publisher Statement
: Details can change at any time. Readers are advised to check with the advertiser (links above) before proceeding.
➼
Advertising Disclaimer
Tags:
Wind Tubes, Kids, Science, gravity, air
Update This Page