An Evening With Chelsea Manning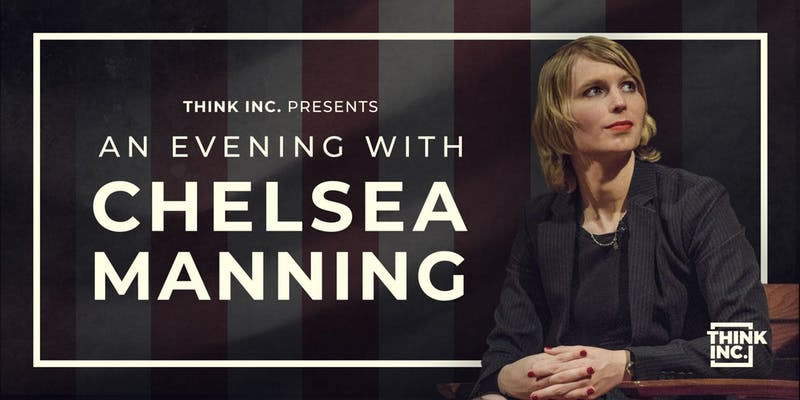 The jailed hero (or traitor depending where you stand) Chelsea Manning is coming to Australia.
In 2010 as a US soldier stationed in Iraq she decided to blow the whistle on her own army. She smuggled classified files off her base on a CD labelled 'Lady Gaga' and passed them on to Wikileaks. The video files showed horrifying and morally questionable airstrikes. A journalist she thought she could trust squealed on her and she was arrested for treason. This could have earned her the death penalty but she got away with 35 years jail later commuted to seven.
She's been out of jail for over a year but still walking into trouble everywhere she goes. Harvard University honored her with a fellowship motivating a former CIA man to resign from his post at the university. A traitor shouldn't be honored he said.
In prison Chelsea (a transwoman born Bradley) began taking medication to assist in her gender transition. Now she uses her celebrity to fight for trans rights. And prison didn't break her brain or change her mind about other political matters. She's still winding up neoconservatives by attacking US foreign policy.
But it's not only that side of politics that she has pissed off. Someone released photos of her playing Cards Against Humanity in a lounge room with people labelled 'alt-right'. And then hanging at a nightclub with other 'alt-right' figures. Had Chelsea jumped sides to join Team Pepe The Frog? She defended herself saying she was just snooping. "I viewed this as an opportunity to use the celebrity and fame I've gotten since getting out of prison to gather information and to ultimately find ways in which we who are against the alt-right can undermine the alt-right."
Chelsea will talk to Australia about her life. How to be a sneak how to survive in prison and how to stop the government and corporations from chipping away at our privacy even more. Come along and see if you can spot the ASIO agents pretending to be regular punters in the audience!
SYDNEY
Sunday 2nd Sept
Sydney Opera House
MELBOURNE
Friday 7th Sept
MCEC Plenary 1
AUCKLAND
Saturday 8th Sept
Q Theatre
WELLINGTON
Sunday 9th Sept
Embassy Theatre
BRISBANE
Tuesday 11th Sept
The Tivoli
❊ When ❊
Date
: Tuesday 11th of September 2018
❊ Venue | Location ❊
The Tivoli
[
view
]
52 Costin Street Fortitude Valley Queensland 4006 ||
Map
Telephone: 07 3852 1711
➼ Venue: 1 Calendar events |
View Events
❊ Web Links ❊
➼
Book Online Here
➼
An Evening With Chelsea Manning
❊ Be Social ❊
Publisher Statement
: Details can change at any time. Readers are advised to check with the advertiser (links above) before proceeding.
➼
Advertising Disclaimer
Update This Page