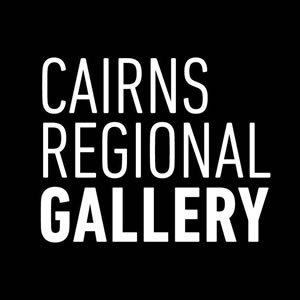 The dream of a public art gallery for Cairns began to take shape in 1979 and over the next 15 years it took the tenacious commitment of Cairns Mayors, Councillors, State Ministers, as well as artists and members of the community to raise over $2 million to repurpose the historic Public Curators Building into an award winning Gallery that was officially opened on 15 July 1995, and now comprises 3 floors of elegantly proportioned gallery spaces.
The building was originally designed by the government architect, R.C. Nowland, and construction commenced in 1934. On completion in 1936, various government departments occupied and modified it until its conversion to an art gallery in 1994. During the renovation, many of the original historical elements were retained, including the original terrazzo floor, polished local timber wall panelling, stained glass windows and iron balustrades. Today the Gallery is an elegant fusion of contemporary and heritage, offering international museum standard lighting, security and climate controls.
The Cairns Regional Gallery is an independent not-for-profit company managed by a Board of Directors. The local Council contributes approx. 55-60% of the Gallerys annual operating costs, with the remaining costs raised through Gallery commercial activities, sponsorships and donations.
The Gallery programs supports its commitment to present art of national and international significance and enable cross cultural dialogues and the interpretation of the unique history and living cultures of Far North Queensland (FNQ), and our place in the worlds tropic zone.
VENUE HIRE
Today the Cairns Regional Gallery is one of the few remaining heritage buildings in Cairns. Located in the heart of the busy central business district and adjacent to the beautiful Cairns lagoon and boardwalk, the Gallery enjoys a prestige location with on-street parking and is within walking distance to all forms of public transport.
Ideal for cocktail parties, private dinners, and corporate networking functions, the Gallerys venues can be transformed to create just the right look for your event.
OPEN DAILY
Mon-Fri 9am - 5pm
Sat 10am - 5pm
Sun 10am - 2pm
Shop closes 15 min prior
to Gallery closing
Gallery closed on Public Holidays
ADMISSION FEE
Adults $5
Concession* | Students* $2.50
Members free
Children free
Companion Card holders free upon presentation of card.
Concession cards accepted: Student ID, Healthcare Card, Seniors Card
CNR ABBOTT ST and SHIELDS ST, Cairns Queensland | Map
Telephone: +61 7 4046 4800



❊ Web Links ❊

➼ Cairns Regional Gallery

➼ www.cairnsregionalgallery.com.au




❊ Be Social ❊
Update This Page